Words of Wisdom from Professional Nannies
May 23, 2013

| in Nanny Tips, Uncategorized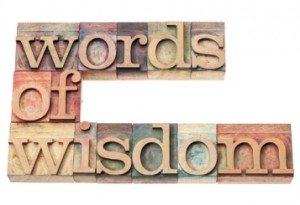 By Kellie Geres
A recent discussion on a Facebook group opened the question of what advice seasoned nannies have for new nannies. These seasoned nannies were able to offer plenty of advice and feedback for nannies just entering the profession, and brought up points that every nanny should consider.
Save your money.  If it's just $10 a paycheck into a savings account, pay yourself a little of each check.  Set it up to automatically withdraw each paycheck.  Once you accumulate enough, consider opening an IRA or CD.
Don't allow the children/work family to become your life. Have outside interests and activities that get you away from work for a while, especially if you are a live-in.  Look at volunteering, local nanny groups, meetups and social clubs.
Let the little things go.  A nanny only has so much control.  Let the little things go and focus on doing your job well.
Take lots of pictures.  These come in handy when it's time for gift giving and keeping the parents up to date on what you are teaching the child/children.  –Caroline H. 
Don't idealize the position or assume this type of work is easy. Being a diligent and devoted Nanny is hard work that is often draining. I LOVE LOVE LOVE being a Nanny, but this is a serious role with long hours, hard work, and involves strong emotions. Don't fantasize that being a Nanny is going to be glamorous. These are not YOUR cars, not YOUR homes, not your vacations, not your jets, not your staff. I have seen a couple of Nannies get caught up in a lifestyle that isn't their own. Act YOUR wage…not your employers. Stay grounded.  –Tracey C.
Watch out for 'job creeps' … extra chores. While it's nice to be able to help out with added chores once and a while, make sure they don't hinder your work with the children.  Seasoned nannies often caution that once you do a task, the parents will expect it time and again with no discussion or additional compensation.
Don't be afraid to discuss job issues with parents as they happen.  Have an open and continuous line of communication with your employers.  Set aside time each week, or at minimum once a month to catch up on what's happening, anticipate needs, discuss overall satisfaction of the job or issues you wish to bring up.
Have a strong backbone.  Stick up for yourself and don't allow families to take advantage of you.  Know what you're worth and don't' settle for anything less.
Be prepared for your interview. Think of lots of questions to ask before you go. If it's your first time interviewing, ask around. Ask experienced nannies or go onto Nanny Island and ask around. We've all had a few bumps in the road and it's good to share them so we can help each other.
Of course it's important for the family to feel a connection with you, but it is JUST as important for you to feel safe, comfortable and feel that you have a good connection with the whole family as well. If something feels off, then there could be. Don't just jump into a position. Interview their previous nannies and Au pairs. You could also ask for references for them if something really does feel strange.  –Caroline J.

A nanny job is a combination of many things – it's like being a baby-sitter, but with more responsibilities; like a parent, but with fewer responsibilities and less of a connection; like a teacher, but possibly less structured (and hopefully more long-term); like an assistant; like a cook; and like a house-cleaner. Keep in mind what you are willing to do and what you want out of a position. There are so many kinds of families that you should be able to find a family that fits well with you.  –Denny C. 
Every day is not the same. You have to love children to be a good nanny. Not just for the money.    –Jennifer M.
Your nanny package grows as you grow professionally. If you are just starting out in this profession, you may not get the same salary and benefit package as a Nanny with more experience and education. Keep working on it… you will grow! But, you have to be your own advocate, interview well, have a clean work history and show/prove why you are worth these benefits.  –Tracey C.
And the number one piece of advice for any nanny ….
Always have a contract/work agreement.  This protects both the nanny and the employer, and there are free versions and paid versions available online. You can also check out the five part series on Anatomy of a Work Agreement on Regarding Nannies.  A contract/work agreement IS legally binding if signed by both parties.
Names used with permission.
← 5 Creative Ways to Save or Reuse Children's Artwork | What Should You Do When Your Boss Volunteers You to Watch the Neighbor's Kids? →
Comments are closed.