5 Creative Ways to Save or Reuse Children's Artwork
May 9, 2013

| in Nanny Tips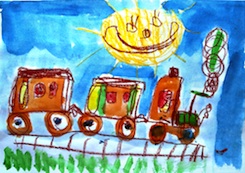 By Kellie Geres
Admit it … if you have or care for children, you'll ultimately have a growing collection of artwork, school projects, rainy day activities and more.  As much as you may want to exhibit all of your budding Picasso's works of art, after a while it's just not feasible to keep everything on display. So what do you do with those miniature masterpieces?
Store it.  Under the bed storage containers are great store-all's for your growing collections.  If you have more than one child, I recommend one for each child.  XXL Ziploc Storage Bags also work well because they can be hung and you can have one for each year of school.
Scan it. Services such as Preschool Palettes will scan your child's artwork and create lasting hardcover books.  These make great keepsakes for parents, grandparents and the child themselves.
Photograph it.  Take a photo of the child's masterpiece and print it out to frame or create a collage of several projects.  Again, these make great gifts for parents and grandparents or décor for your children's room or playroom.   Check out Pinterest for great graphics on artwork collages.
Recycle it.  Drawings can be used for wrapping paper, note cards, thank you notes, birthday cards and more.  Take flat artwork and cover them in clear contact paper or laminate them and create placemats for the family dining table or breakfast nook.
Gift it.  Take pieces of artwork and create ornaments for Christmas, or take a photo of the child holding a favorite piece and frame it for mom or dad as gift.  Buy a plain, unfinished wooden container at Michael's and some mod podge and adhere the artwork to the container.
With a little creativity and some storage space, your mini Picasso's creations can be preserved for enjoyment and memories for years to come.
← How to Develop a Niche in Your Nanny Career | Words of Wisdom from Professional Nannies →
Comments are closed.