What Should You Do When Your Boss Volunteers You to Watch the Neighbor's Kids?
July 3, 2013

| in Uncategorized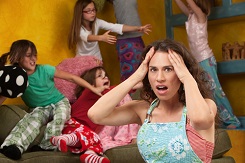 Working as a nanny can be a rewarding, exciting and fulfilling career choice. It can also be a complicated minefield of potential complications with your employers when boundaries aren't respected. When parents are paying what they consider a high salary, many feel like it's acceptable to "get their money's worth" by requesting that you work long hours or heaping additional responsibilities on to your plate that aren't related to childcare. Some also feel that paying your salary leaves them with an on-call childcare provider that's always at their disposal. Being volunteered to watch children other than your charges is usually frustrating, especially when you're already dealing with some degree of job creep. Handling the situation is complicated, though, especially if your employers are less than receptive to your concerns. These tips can help you handle such situations with relative ease.
Refer to Your Nanny Agreement
When you enter into a professional relationship with a family, that relationship tends to be more straightforward and easy to manage when there's a written work agreement to govern it. If there's nothing in your nanny contract about being at the disposal of other parents in your employers social network, then you can calmly and quietly refer to the lack of provision as a reason why you're not required to care for additional children. It's also wise to insist on the addition of a play date provision in your next contract, especially if the situation is a common one and renewal negotiation time is nearing.
Be Honest
There's a difference between being honest and being abrasive, and it's completely possible to be honest with your employer without being confrontational or rude. Simply remind your employer that your salary is based upon caring for the children under your care only, and that you're not being compensated for the care of additional children. As long as you maintain your professional composure and refuse to be drawn into an altercation, you should be able to walk away from the situation with minimal fallout.
Politely Inquire About Additional Compensation
Most parents don't volunteer their nannies to watch other kids in the neighborhood because they're being malicious, they're simply not aware of the fact that it's rude and presumptuous. If you approach your employer with inquiries about additional compensation for the addition to your work load presented by caring for children other than the ones you're employed to look after, it may bring the situation to light in a manner that makes her see it from your perspective. Let your employer know that your concerns spring from a real commitment to provide the best possible care to her children, and that you're simply concerned that you would be overwhelmed by adding more kids to the mix. When faced with the possibility of diminishing her own kids' quality of care, your employer is likely to rethink things a bit.
Grin and Bear It
Sometimes a volunteered play date situation is a one-time-only affair, and as such is not worth the potential for causing trouble. If you're able to handle the additional work load on a very temporary basis, it may be best to hold your peace. After all, one occasion isn't worth damaging your relationship with your employer. Should the situation become a more frequent one, however, it may be worth gently addressing at your next meeting or evaluation. Before making an issue where none really exists, it may be better to let the very occasional occurrence slide.
← Words of Wisdom from Professional Nannies | Top Lessons I've Learned as a Nanny →
Comments are closed.