Shopping for Kids: Ways to Be Frugal Without Skimping
December 19, 2013

| in Uncategorized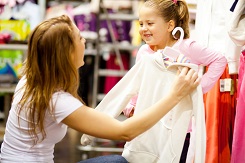 Let's face it: Kids are expensive. It seems like you buy a new pair of shoes one week, only to have your children outgrow them the next. From clothes and hygiene accessories to food and produce, your children deserve the best, but how can you provide quality necessities without breaking the bank?
The key is to adopt a frugal shopping routine that will get you more bang for your buck without skimping on quality.
Scouting for Deals
When shopping for kids, it's important to scout out the deals so you can provide more or better quality items to meet their needs. According to Rachel Holland, creator of SurvivingtheStores.com, deals are in abundance at every retail outlet. "You might have to wait for the right time to buy, but there are low prices in every market," she says.
Putting your fingertips to the test may be your best option. Download mobile apps with instant coupons or deal alerts to keep costs down when shopping for clothes, groceries or that "I have to have it" toy for your children. Many apps and online savings sites allow you to customize your search or enroll in alerts for specific items. This way, the deals come to you before you even head to the store.
Online promo codes can also save you a bundle when shopping for clothes, shoes and baby accessories. Avoid paying full price for name-brand clothes by shopping at consignment shops for lightly-worn clothes, shoes and even toys.
According to Jeanette Pavini, household savings expert for Coupons.com, resale shops are hands-down the best way to save on all baby items. "From sleepers to strollers and everything in between, resale shops have it," she says. "Additionally, you can trade in the things your kids have outgrown and get a credit toward things you need."
When shopping for your little ones, don't forget to stake out specialty stores, too. "Specialty baby stores sell off last year's models of strollers, car seats and other items for a deep discount," says Pavini. "You won't have this year's model, but sometimes the only difference is the color."
Clipping Coupons
One of the most common misconceptions about coupons is that the hassle is not worth the savings. With some organization and thoughtful reflection, coupons can allow you to find the best deals in town, says Holland. Start clipping and see the savings first-hand.
Holland recommends the following when clipping coupons for children's and grocery items:
Don't use a coupon just because you have it
Wait for a great sale before you use your coupon
Use manufacturer coupons along with store-specific coupons for bigger savings
Learn the grocery store sales cycles
"Forget about extreme couponing," says Holland. "Realistic couponing only takes an hour a week and can really save you 50% or more on your grocery bills every month."
According to Pavini, household savings expert for Coupons.com, a family of four can save approximately $50 each week when combining coupons with in-store ads. "Consumers need to look at coupons as 'free money' because that is exactly what it is," she says. "Keep in mind coupons are not just for groceries anymore. Drug store items and personal care products offer excellent savings through coupons."
Get Frugal With Groceries
One of the biggest expenses families face is the monthly grocery bill. Lower your expenses and feed your family well with frugal food choices, Holland says.
Buy one whole chicken instead of one that's already cut up
Don't buy already seasoned meat – season it yourself
Check out your local butcher instead of the grocery stores. Many times their everyday price beats the store sales price.
Only buy the fruits and veggies that are in season
Check out the bulk food sections of the store. Sometimes not having it pre-packaged will save you a ton.
Buy the roast that's on sale and have the meat department grind it for you instead of buying the ground chuck that's not on sale
Substitute beans for meat or add some beans to your meat dishes to get the protein content up without the extra cost
When shopping for groceries, a common myth is that 'bigger is better.' Bulk buys, though, are not always the best buys. In fact, buying in bulk can lead to waste, says Pavini. "Buying in bulk only works if you will use everything before the expiration dates and before your kids get sick of the same box of cereal for the third week in a row," says Pavini.
Getting the best bang for your buck involves planning. With some creative, cost-saving techniques, your children will have the necessities they need and then some.
← 10 Warning Signs in a Nanny Job Listing | Ending the Sibling Rivalry: How to Teach Your Children to Get Along →
Comments are closed.