10 Warning Signs in a Nanny Job Listing
December 18, 2013

| in Uncategorized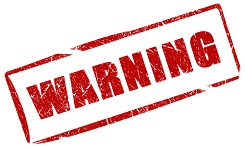 To be fair, not everyone knows what a "nanny" is. New parents, or those looking to push the limits to gain the most value for their salary, might expect a nanny to be a caregiver, housekeeper, chef, household manager, tutor, personal shopper and chauffeur – all rolled into one. This might be fine, if the terms are detailed and agreed upon with appropriate compensation, but if you are solely interested in a child caregiving position, you can waste a lot of time sifting through ads to find the jobs that meet your needs.
To avoid taking a job that doesn't meet your needs and expectations, use this checklist of 10 warning signs to watch for in nanny job listings.
No Referrals
This may be true, in the case of a newborn and first time parents. If so, ask for character references. You will be entering this person's private space and you don't want to endanger yourself or make yourself liable. They may be avoiding sharing references because they are difficult to work with and the former nanny left under negative terms.
Do Your Research
Ask for their full name. After all, you will be potentially meeting for your first in-person interview in their space.  A quick internet search might tell you a lot more than a first impression, or at least let you go into the interview with pertinent questions that might need to be cleared up. If you decide to take the position, consider a background screening before committing to a long-term childcare relationship.
Lack of Honesty
Parents are bound to sing their children's praises; it's only natural to see your little ones in the best possible light. But if other falsehoods pop up (the first phone call reveals conflicting expectations from what they put in the ad – nanny bait and switch), be prepared for more serious issues to potentially be glossed over.
Many Poppins
If an ad sounds familiar, or too good to be true (private large apartment in the heart of NYC! extreme salary! huge perks!), a search using key terms mentioned might reveal a succession of ads for the same position, suggesting they might have trouble holding onto their caregiver (and that the salary might be that big for a reason).
Light Housekeeping
Light housekeeping means many different things to many people. If it's a matter of cleaning up after the children's eating mess, doing the dishes that you use during the day, or tidying the house from the pillow fort and line of cheerios trailing through the living room – that might be expected. It's best to outline exactly what this means, though, to avoid unpleasant surprises or being underpaid for your efforts.
Trash-Talking
If the prospective employer is badmouthing the former nanny in the initial conversation, criticizing her work or other personal attributes, remember that could one day be you. Being publicly negative about someone in their employ speaks to their lack of character, and it might not even be true. A quick glance at social media accounts can be an eye-opener, and let you in on how they really view their nannies.
Vague Job Descriptions
This could be a problem, especially if they feel by answering and accepting the position you have agreed to be up for anything that pops up within their house – or it could just mean you need clearer communication (and a written contract outlining precise duties and expectations!).
Bad Vibe or No Click
Being a nanny is a very personal job. It is a profession, but it is one where you become intimate with another person's home life and their child. If you do not feel comfortable with your employer or in the home you are expected to work within, there will be other positions that are a better match.
Varying Hours
This could mean just that, or it could be a sneaky way of trying to work around the Fair Labor Standards Act by treating you as a babysitter without regular employment. This could also lead to a situation where they feel you are on call, and responsible for covering at the last minute or being canceled without notice based on their whims or changes of plans.
Must Be Pet-Friendly
Does this mean dog and cat allergy sufferers need not apply? Those with phobias look further? That these pet-parents' four legged children must feel as comfortable with those sharing their space as their two-legged kids? If so, that might be fine (and a sign of a thoughtful future employer). However, all too often, this is code for "must be willing to walk dog mid-day" and other assorted pet care needs that just "pop up". If your plans for a position don't include a pocket full of blue plastic doggie bags or getting nipped as you refill the bird's food dish, ask for details and put the expectation in writing within your nanny contract.
← Teaching Children the Importance of Volunteering: Activities for Nannies and Children | Shopping for Kids: Ways to Be Frugal Without Skimping →
Comments are closed.