10 Ways for a New Nanny to Hit the Ground Running
May 12, 2012

| in Nanny Tips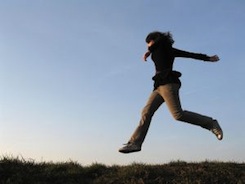 Starting any new career can be daunting, but there's something especially intimidating about a nanny's first post. In addition to the pressure of keeping your charges safe and happy, you may also feel some anxiety regarding your employers' evaluation of your abilities. For brand new nannies ready to embark upon a rewarding and exciting career, here are ten tips to make sure that you get a strong start.
Work Out Your Nanny Agreement – Before you report to your first day of work, you should sit down with your employers to draft and sign a written nanny agreement that outlines the expectations and responsibilities of both parties. Knowing exactly what's expected of you and what you can expect of your new employers will make it easier for you to tackle your first day with confidence, rather than confusion.
Do Your Research – Learn everything you can about your charges. Allergies, habits and eating habits are a great start; it's also a good idea to ask about naptime routines and favorite comfort objects. Knowing that a screaming toddler will calm down when she's presented with a  favorite blanket or stuffed animal can help you stay calm.
Pack Your Own First Aid Kit – Live-in and live-out nannies alike might find it useful to pack a small first aid kit to have on hand in the event of a bump, bruise or scrape. The last thing you'll want is to rummage through your employers' cabinets and closets looking for bandages if one of your charges has a boo-boo.
Establish Boundaries – Live-in nannies need to establish boundaries for their charges, their employers and themselves. Without them, children will wander freely through your quarters after hours and on your off days. The boundaries you set for yourself should help you to understand that, regardless of how emotionally attached you may become to your charges, they are not your children. In the end, your employers will expect you to instill the same values in their children that they do, even if you don't share them.
Hold Off on Outings – Trips to the zoo or the park can be just as much fun for Nanny as they are for the children, but it's probably best to wait until you've all gotten to know one another better before packing everyone up and heading out. Even kids that you know well are sure to be unpredictable; taking new charges on outings in the first few weeks is just asking for trouble.
Check Your Personal Baggage – Because being a good nanny requires every ounce of your attention, it's great for helping you keep your mind off of your troubles. However, dwelling on those struggles can leave you distracted and on edge, which will invariably affect both your performance and your employers' initial impression of you.
Dress For Success – While dressing for success in the business world might mean a skirt and heels, that's definitely not the case for nannies. Unless your employer specifies a uniform, choose comfortable, well-fitting clothes that you don't mind getting a bit of dirt on.
Be Prepared For Disagreements – Though it can be difficult to fathom during the first blush of a new post, there will be times when you disagree wholeheartedly with your employers. Even the best working relationships have the potential to hit a snag if these disagreements aren't handled carefully; in the case of disputes arising from parenting techniques, it's best to bite your tongue. Unless you feel that your charges are being abused, it's important to remember that your employers make the rules regarding the parenting of their children.
Create a Support System – Joining an online forum or a local group dedicated to nannies is a great idea; you'll eventually need someone to vent to or bounce ideas of of, and the other members of the nannying community are a priceless resource in that regard.
Have Fun – Being allowed to spend your days on fingerpainting, sing-a-longs and silly games is one of the biggest perks of working as a nanny. Don't be afraid to let your hair down and have fun with your charges; everyone will benefit.
Above all, the most valuable advice a new nanny can receive is to expect the unexpected. There's no predicting what your charges and their parents will come up with, and the days that follow your intended schedule will be rare. Being able to roll with the punches is one of the best skills a nanny can have to ensure her success.
← 10 Signs of Heat Stroke in Children | 10 Things Moms Love to Hear on Mother's Day →
Comments are closed.