Ways to Beef Up the Experience Section of Your Resume
January 21, 2013

| in Nanny Tips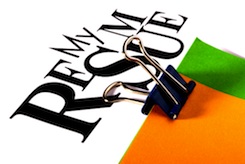 When you're looking for a nanny job, agencies and parents want to make sure you have current, relevant experience, especially with children who are the ages of the charges you'll be working with before hiring you. They also want to make sure that you have a proven track record of handling the responsibilities required in the job. But what if you don't have a lot childcare or nanny experience? What should you do if you don't have a track record of being an effective household manager or family cook? Here are some easy ways to beef up the experience section of your resume before or during your next job search.
Make sure you include all your experience. Many nannies have experience from long-term babysitting jobs, volunteer jobs or other avenues that they don't list on their resume because the experience doesn't come from full-time nanny work. Remember your resume is a big picture view of everything you've done, so make sure you include all the experience you have. Each piece may not seem like much individually, but together those things can add up to a lot of important experience. Make sure you look beyond your experience as a childcare provider and list other relevant experience as well, like household management, housekeeping, cooking or other skills parents in today's job market find valuable.
Work as a temp nanny while you're searching. Many larger nanny placement agencies offer temporary and back-up services to parents in the local community. Working for a temp agency is the perfect way to earn extra money while you're searching for a job and will help you gain experience in different environments with children of different ages. It also gives the agency's staff members the opportunity to get to know you. If you prove to be a high quality, reliable caregiver they'll be more likely to present you to their long term clients. If you're able to secure a full-time short-term position, you'll also be able to use that family as an additional reference.
Work as a babysitter or temp nanny for a family that gives you a specific kind of experience. If you're trying to land a job with infants, but it's been years since you've worked with them, you'll need to beef up your resume for that particular age. If you'd like to work with twins, but have never worked with multiples, you'll need to get solid twin experience under your belt. Look for families in your area that are able to give you the hands-on experience you're lacking. Of course, babysitting a few nights here and there won't give you real world experience, but if you babysit once or twice a week for several months, you can build up relevant experience.
Volunteer in your local community. Local organizations are always looking for people to work with children. Services that provide help to people who are parents, grandparents or foster parents need volunteers to care for children while their caregivers are in training, groups or other activities. You can also volunteer to work directly with child clients, like in Girl Scouts and Big Brothers and Big Sisters. Working as a volunteer is a wonderful way to give back to your local community and get hands-on childcare experience.
Take on additional duties in your current job. Not all experience needed for your job search has to do with hands-on childcare. More and more parents are looking for nannies that have current and relevant experience in household management, cooking, cleaning or other household related tasks. To gain that type of experience, you often don't have to look beyond your current job. Talk with your employer about taking on additional tasks that will give you experience you can use to jump to the next level in your job search. If you need to take additional training to successfully handle the added responsibilities, this is the perfect time to do that. If you primarily do childcare now, take a class in healthy family cooking and start preparing dinner one or two times a week for your current family. If you don't handle any of the household management jobs right now, ask your employer to let you lighten his load by taking on a few of those tasks. Yes, increasing your workload will be harder in the short run, especially since you'll be doing it for little or no extra pay. However, the education and experience you gain can help you move forward in your career, making the sacrifices right now worthwhile ones for the future.
Take a critical look at your resume and fill in any experience gaps you have. In your next job search, having current and relevant experience is one of the things that will put you ahead of the competition.
← 5 Gifts Nannies Can Give Employers for the Holidays | How to Break the Sense of Entitlement in Your Child →
One Response to Ways to Beef Up the Experience Section of Your Resume