5 Gifts Nannies Can Give Employers for the Holidays
January 16, 2013

| in Uncategorized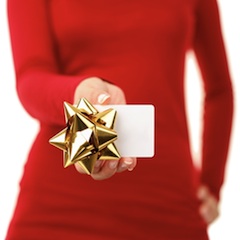 By Kellie Geres
To gift or not gift? That is a question asked many times during the holiday season by nannies across the country.  While giving a gift to your employer is not required, it is a nice gesture of thanks and shows your appreciation for your job. But what do you get the employer who has everything, or – in my case – an employer who buys whatever she wants or needs?
The following suggestions are gift ideas that I have given in the past to employers that have been well received and appreciated:
A case of their favorite Samuel Adams ale, a gift card to a restaurant, and an evening of babysitting.   You could also give them a bottle of their favorite wine or other beverage and attach the gift card to it for gift giving.
A photo collage of the kids in a nice frame and other photo gifts, such as a mouse pad, memo cube and calendar. These are great gifts for the grandparents as well, if you feel inclined to give them a gift.
Scrapbooks of the kids' year of events and activities. These types of gifts are always appreciated.  I took all the photos I had taken throughout the year and created scrapbooks each year I was with the family.  I also created books for special birthdays and family vacations.
A gift card to their favorite home store. One of the families I worked for was in the process of redecorating their house during the holiday season, so a gift card to their favorite home store was the perfect gift.
Homemade gifts. Hand painted pottery was a favorite in a previous position.  I would take the kids and create something using their handprints or footprints. While I was finishing it up, the kids would be able to pick their own piece of pottery and create a gift for a grandparent, friend or themselves.
I also made a point to take the kids shopping for gifts to give to their parents.  I would coordinate with the parents in advance and ask them to send their gift wish list to me, as well as a budget, and then would take the kids shopping to pick out a gift.  The kids would also get to wrap the present themselves, write out the tag, and then place the gift under the tree.  The kids were always thrilled to be able to pick out a gift for the parents, and it also taught them about the basics of budgeting. If there was a gift that they wanted to buy that was a little pricier, the kids would pool their money together to be able to get that extra special item together.
How do you determine how much to spend on your employers?   Whether its $20 or $100, spend what you feel comfortable spending.  Personally, I don't spend more than $100 for my employers, and I don't spend more than $40 on the kids, but that is my own personal budget.  You might feel inclined to spend more or less; it's all a matter of personal preference.
← How to Protect the Privacy of Your Employer on the Job | Ways to Beef Up the Experience Section of Your Resume →
Comments are closed.