Safety Tips for Nannies
January 2, 2013

| in Nanny Tips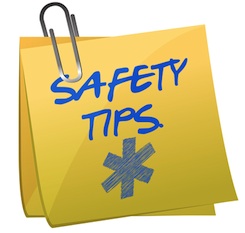 When your employers extended an offer of employment, they were also entrusting you with the safety of the most vulnerable, treasured members of their family. As a nanny, it's absolutely imperative that you take that trust seriously, making every effort to ensure that your charges are protected to the best of your ability at all times. While you may not be able to prevent everything that could potentially befall your charges, it's essential that you make a concerted effort to try. The following safety tips can help you to make sure that your little charges are protected and as safe as you can make them.
Be Aware of Your Surroundings
One of the most effective ways to ensure that your charges aren't wandering into trouble, being approached by potential predators or engaging in unsafe play activities is to simply be aware of your surroundings, and observant of what's going on. If you go to the same playground on a regular basis and notice a suspicious stranger, be sure that your attention doesn't waver. Know where potential safety hazards lie at any given location and be prepared to intervene if kids are approaching them. Simply being aware of where you are and what's going on around you can prevent many dangerous situations from coming to unfortunate fruition.
Follow Safety Guidelines to the Letter
If you're taking your charges on an outing or playing together, be sure that you're following the rules without exception. Don't let older kids talk you into skipping their car booster seat "just this once," make sure that everyone is wearing plenty of sunscreen before venturing out into the sun's rays and that you treat potentially risky activities with the proper respect. Swimming, for instance, is a great way to cool off and have fun with your charges on a summer day, but you need to make sure that you will be able to keep an eye on everyone and that you're aware of the potential risks inherent in the activity. Allowing yourself to be swayed into neglecting a "little" safety rule can have disastrous consequences, so it's best to establish a policy of never deviating from those guidelines.
Be Attentive and Engaged With Your Charges
Looking after children and managing the demands of a bustling household is exhausting. Still, the safety of your charges depends largely upon your ability to maintain active attention, to never ignore your charges or leave them unsupervised. There are so many things that can go wrong in relatively short time, that it's just not safe to turn your back on the children you're caring for, even for a moment. Be sure that you're always giving your charges the attention that they need, and that you're actively engaged with them to be sure that they're not finding their way into a dangerous situation while your back is turned.
Avoid Unfamiliar Areas Whenever Possible
Outings are a great part of being a nanny, and can have many benefits. It's wise, though, to make sure that you schedule your outings in a familiar area, and that you avoid venturing too far beyond your comfort zone when your charges are in tow. Getting lost searching for and address, finding yourself in an undesirable area or simply not being able to apprise yourself of potential safety risks at a new place can be a bit reckless, and could even be dangerous. If you're determined to bring your charges somewhere new and exciting, you can help to stave off some of the risks by making sure that you schedule a visit of your own before the big day, so that you're sure of where you're going and have an idea of what your charges need to avoid.
Keep Safety Information On Hand at All Times
Because even the most dedicated, attentive and distraction-proof nannies can't prevent all incidents, it's important to have all of your charges' information on hand when you're working. The contact numbers for your employers, your charges' pediatricians and other medical professionals and an authorization to treat a minor form can help you to keep a simple mishap from becoming a major situation, so it's important that you never greet a day of work without having that information somewhere it can be easily accessed and referenced whenever the need arises.
Keeping your charges safe is a big job, but it is the one that you're most responsible for. The health, happiness and safety of your charges rests in your hands, which is why it's necessary for you to be vigilant about their protection.
← 10 Reasons a College Student Might Be Just the Nanny You're Looking For | How to Protect the Privacy of Your Employer on the Job →
Comments are closed.