10 Reasons a College Student Might Be Just the Nanny You're Looking For
December 19, 2012

| in Nanny Tips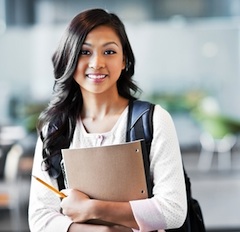 As you begin the process of searching for a nanny, it's likely that you have a fairly lengthy list of traits and attributes that you're looking for in your ideal candidate. While many nanny employers prefer a seasoned veteran with plenty of experience, there's a strong case to be made for promising college students. These are 10 of the reasons why you may want to give a candidate from the local university a chance.
Enthusiasm – A fresh-faced student eager to begin her career in childcare can bring energy and excitement to a new post. There's certainly something to be said for any nanny who greets each day with enthusiasm and excitement.
Youthful Energy – The high energy level of a young and eager candidate may be a perfect match for particularly rambunctious children. If your brood requires constant vigilance and plenty of energy to keep up with them, a student may be the perfect fit for the position.
Flexibility – A college student may have less experience than a candidate who's been caring for children for decades, but that relative lack of experience may actually work in your favor. Where a veteran nanny may have an established method she's reluctant to deviate from due to those years of experience, a relatively inexperienced student may be more likely to take a less rigid approach.
Reduced Likelihood of Burnout – A college student may be less likely to burn out, due simply to the fact that she hasn't been working in the childcare industry for several years or even decades.
Her Studies are in a Related Field – When a student candidate is working towards a degree in child development or education, she'll almost certainly apply the things that she's learning to everyday situations. As such, she'll be adhering to an established childrearing method.
Education is a Deal-Breaker – A college degree is non-negotiable for some parents, but it's important to note that a nanny in the middle of her higher education is also more likely to still be retaining the lessons she's learning. Living in an environment of academia may also help her to bring a more educated, refined approach to childcare.
Fresh, Creative Approach –The ingenuity and youthful creativity of a college student may resonate with your children in a way that a more staid, traditionalist approach does not.
You'd Prefer a Live-In – While live-in nannies are a bit rarer than their live-out counterparts, if you're in the market for a nanny who lives in your home, a college student may fit the bill perfectly. Eagerness to escape dorm living can encourage a student to accept a post as a live-in, where an older adult who's already established a family and household of their own may be reluctant to move into quarters in their employers home. If you're looking for a live-in childcare provider, a college student may be the most ideal choice.
Scheduling – If your children are all of school age, the fact that their nanny is on a relatively similar schedule can be an enormous help during summer vacation and school breaks throughout the year. Provided that her existing class schedule doesn't interfere with her availability in regard to the hours that you'll need her to report, scheduling may actually be easier with a student. This especially holds true if you're only looking for a part-time nanny, as more experienced career nannies may be hesitant to accept a lower-paying part-time post.
You Need a Tutor or Homework Helper – A college student is still in the thick of her academic career, and her own elementary and middle school years aren't that far behind her. If you're in need of a tutor or know that your children will require homework help, a college student may actually be a better choice.
However you arrive at the decision to hire a nanny, whether she's a college student or a seasoned professional, it's absolutely imperative that you adhere to all state and federal hiring laws. Accusations of discrimination can be devastating, especially if they lead to a potentially-costly and time-consuming lawsuit.
← 10 Ways to Establish How Much to Pay a Nanny | Safety Tips for Nannies →
Comments are closed.