Writing the Winning Resume
May 19, 2014

| in Uncategorized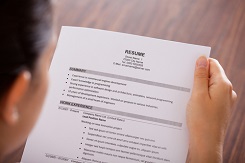 To be competitive in today's nanny job market, a caregiver must have a stand out resume. When applying for a job, this is what agencies and parents will ask for as a first step in the initial screening process. What does a winning resume include? Let's take a look at the important elements.
Your Full Contact Information: This is one of the most important things to include on your resume. It doesn't matter if you're a great candidate if the parents don't know how to contact you! Make sure your full name, email address, city and state, and phone number are included on each page of your resume. If you're using Skype to interview, include your Skype name too. 
Headshot: It's not mandatory that you include a picture on your resume; however, it does add a personal touch. It also helps parents put a name to a face before they meet you, which can make you more memorable than other candidates. You don't have to spend a lot of money having a headshot taken by a professional photographer. Just choose a picture that is well lit, centered and doesn't include inappropriate clothing, gestures or props. Don't include children in your headshot. This picture should be focused on you.
Education: If you have a degree, certifications or any other type of formal education, make sure to list them in the Education section. Education, especially degrees and certifications related to Early Childhood Education, is becoming increasingly important to parents when hiring a nanny. But don't overlook education that isn't related to childcare. A degree in any field shows parents that you value education and that you have the commitment to complete your degree.
Work History: One of the key pieces of information agencies and parents are looking for is where you've worked in the past. While this does include childcare jobs, it also includes other types of positions. Potential families want to know if you have any large, unexplained gaps in your employment history. They also want to know what type of jobs you've held and how long you've stayed at each one. Your overall work history gives them important information about your experience, how often you change jobs and the progression of your career.
Childcare Experience: This section gives agencies and parents a snapshot of your past work with children. It can include your work as a babysitter, nanny, daycare worker, preschool teacher or camp counselor. It can also include any volunteer work you've done where you directly cared for or engaged with kids. This is also the section where you want to detail the different age groups you've worked with, as well as how long you've worked with each one. Most parents are looking for nannies that have experience with the age group they have at home. If you've ever worked with a special population, such as multiplies or children with special needs, make sure to include that information too. Additionally, outline the responsibilities you had in each childcare position. Show potential employers that you have hands on experience with things like preparing healthy meals for a variety of age groups, planning fun and educational activities, safely transporting children to and from activities and juggling a variety of household tasks.
Volunteer Work: If you do a lot of volunteer work, that's great information to include on your resume, especially if you're working directly with children in your volunteer position. This work adds to your childcare experience. Even if your volunteer work doesn't involve working directly with kids, it's still a valuable part of your resume because it speaks to the type of person you are and the other skills you have to offer. Many potential employers take a nanny's volunteer work into consideration when deciding on the candidate that is the best choice for their family.
Professional Development: Like formal education, professional development is becoming more and more important to parents hiring a nanny. If you've attended conferences, seminars, workshops, webinars or other types of training on nanny or child related topics, make sure to detail them in the Professional Development section of your resume. Participating in ongoing training shows agencies and families that you value improving the knowledge and skills you have when it comes to caring for children. It sets you apart from those nannies that don't invest in continuing education.
Hobbies and Interests: Agencies and families also want to know you on a personal level. Including a short section on the things that you enjoy doing in your off time is a fun way to make your resume more personal and inviting.
Writing a winning resume does take some time and effort. However, it's time well spent, as this is a key tool in your job search.
← How to Foster a Father/Child Relationship | How Nannies Can Work With Entitled Kids →
Comments are closed.