Top 10 Reasons Nannies Stay with a Family Long-Term
October 16, 2013

| in Uncategorized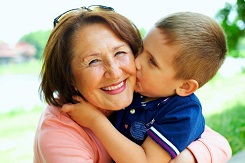 It's natural for both nannies and parents to want to enter into an employment relationship that will last for years to come. This situation is best for the caregiver, the parents and the kids. But how can you make that happen? Here's a list of the top ten reasons nannies stay with a family long-term.
The family is appreciative of the nanny's work. One of the best ways a family can get their nanny to stay with them long-term is to be truly thankful for the work she does. Saying thank you for taking great care of the kids goes a long way in creating a successful nanny/parent relationship.
The family pays a competitive wage. Money isn't the most important thing in a nanny job, but it does matter. Every nanny wants to be paid a wage that allows her to meet her financial obligations and goals. When a family pays a competitive wage and offers regular raises, their nanny is much more likely to stay long-term.
The family offers a good benefit package. Although it's not legally required, it's standard for a family to offer two weeks of paid vacation to their nanny each year. Many families offer additional benefits as well, such as paid sick, professional or continuing education days. Some even offer paid health insurance or a car benefit. A generous benefits package is a great incentive for a nanny to stay in a job.
There's a give and take attitude between the nanny and parents. Flexibility is key in a successful nanny/parent relationship. When both sides are willing to help the other side out as needed, it creates a close bond between them. It also makes any issues that come up much easier to work through.
The nanny enjoys her day to day work. When a caregiver is working 10 to 12 hours a day, it's important that she really enjoys her days. After all, she needs to be happy and satisfied to provide great care. Different things are important to each nanny. Some need to be able to get out and about often. Others need to be able to set their own schedules and plan their own activities. When a nanny gets what she feels is important from her job, it entices her to stay with that family.
The family respects the nanny's time. Most nannies generally work longer than average work weeks. So when a family is respectful of their nanny's time off the clock, it means a lot. Making sure a nanny gets plenty of downtime to rest and relax is an investment that pays off for both the caregiver and the family.
The family respects the job description. Every nanny job description is different. The one thing that's the same is that it's easy for the description to slowly expand over time without the parents even noticing. When a family is careful to stick to what was originally agreed to, the nanny doesn't have to deal with job creep and doesn't feel overworked or underappreciated. Of course, the family's childcare needs will change over time and the job description will change too. Talking about these changes openly and making sure the nanny is on board is the best way to keep the relationship on the right track.
The nanny is comfortable in the family's home. For a nanny to be happy over the long haul, her personal style has to mesh with the parents' style. If she thrives on a neat and organized environment, she won't be happy in a home that's messy and chaotic. If she's relaxed and laidback, she won't be happy in a formal household. But when the nanny's and parents' style align, it makes for a happy nanny.
The family backs up the nanny's discipline decisions. Every day, the nanny has to make decisions about how to handle the kids' challenging behaviors. When the parents support her choices and back her up with the kids, it gives her the confidence to do what she feels is best. It also helps the child when all the adults are on the same page regarding these decisions.
The nanny loves the kids! Of course, this is a huge factor in any nanny job. The relationship she has with the kids is the biggest incentive a nanny has to stay with a family. The love she has for the kids is her motivation to work things out when things get tough, and it encourages her to make it work year after year.
← 10 Reasons to Consider Shopping the Consignment Shops | Anxious Kids: Anxious Parents by Reid Wilson and Lynn Lyons →
Comments are closed.