The 10 Most Popular Tweets by Real-Life Working Moms and Why You Might Tweet Them Too
February 5, 2013

| in Nanny Tips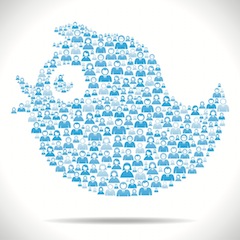 Because busy working moms are often left to communicate with their friends and loved ones in the quickest and most efficient way possible, Twitter can be a very popular tool among the career-mommy set. Keeping everyone in your life updated with quick bursts of information, 140 characters at a time, lets harried professionals maintain some semblance of normalcy in their relationships with friends and relatives. Of all the many tweets sent out by working moms, these 10 or some variation of them tend to be the most popular.
"Impromptu late meeting. Hope @mynanny won't be too upset!" – For over-scheduled professionals, a last-minute meeting can definitely throw off their family routine. They can also be unavoidable when duty calls, however. With a trusted and understanding childcare provider at home, career moms are able to pursue their work with ease regarding their child's safety and wellbeing.
"I'm exhausted. I definitely need a #Vacation!" – Working a full-time job and then returning to a hectic household is anything but energizing, leaving many working moms operating on an almost constant level of exhaustion. Tweets about longed-for vacations aren't uncommon in the least.
"Tired of arguing with @SAHM about my choices! #MommyWars" – The battle between working moms and those who stay home with their children can get downright nasty, especially on the Internet. Working moms embroiled in the so-called "Mommy Wars" take to Twitter in droves, in hopes of defending their lifestyle choices.
"Anyone up for a weekend #playdate?" – The days of sending a mass text to every family in a working mom's phone book are dwindling, especially when everyone has a Twitter account to refer to. Working out the details of impromptu play dates can be as simple as sending out a tweet and watching the direct messages roll in.
"I can't wait until school starts! #BackToSchool" – It's safe to say that most moms are far more relieved than their brood when the summer break ends and life can resume some sort of reasonable schedule. At the peak of the dog days, this tweet is not an unusual one.
"There never seems to be enough time in the day. #WorkingMomProblems" – Most moms are faced with a lack of free time, a tenet that especially holds true for those who are struggling to maintain their careers while raising a family.
"Late meeting then school play tonight! #MommyBalancingAct" – Scheduling conflicts are certainly not unfamiliar territory for the working mom, who is often a master juggler of time slots by the time her children are grown. There always seems to be more to do than time in the day, but working moms are adept at managing the challenge.
"My morning to run the carpool! #Hectic" – Moms whose kids participate in carpool programs are able to enjoy several consecutive mornings of reduced responsibility when their kids are riding with other parents. They also, however, have to rearrange their already crammed schedule to run that same errand themselves from time to time.
"Any ideas for quick dinner recipes? #TheFamilyTable" – The benefits of sharing a meal as a family are well-documented and highly publicized. For moms that are meeting the demands of their career as well as raising a family, however, gourmet meals simply aren't on the menu on a weeknight. Reaching out to tap into the collective wisdom of the Twitterverse is a great way to find quick dinner solutions.
"My maternity leave is officially over! 🙁 #FirstDayBack" – Few moments in a new mom's life are as bittersweet as returning to work after giving birth. The sentiments expressed by these parents can tug at the heartstrings, even if followers know how eager a new mom is to get back out there.
While you'll definitely want to keep up with everyone you care about and no longer have time to speak with regularly, it's important to remember that tweeting while driving is just as dangerous as texting and driving. Any distraction can present a road hazard, and in many areas using your phone in the car can open you up to the possibility of expensive citations and fines. Be sure that you save your mini-updates for a time when you're on solid ground, in the interest of your own safety and that of other drivers on the road around you.
← 5 Ways Nannies Exceed Employer Expectations | Things Not Included In the Typical Nanny Job Description →
Comments are closed.